Adoption rates for Business Intelligence (BI) and Analytics are abysmally low. Despite the hype, data driven decision making hasn't reached the "masses" and remains an elusive goal.
Given the increasing evidence that data-driven organizations are out performing their peers, why hasn't the market forced the hand of laggard companies?
There are many reasons, but the big one is that behavior change is hard. If you want to succeed, you must focus on culture – which is I am loosely defining as "the Operating System of people". Rebooting the culture of an organization can be challenging. Where do you start?
Here are 4 ideas to help you get started:
1) Amplify feedback loops
Feedback loops are deceptively simple but powerful. If you know what to look for, they can be found everywhere. Home thermostats use feedback loops to control temperature. Your stomach initiates feedback to the brain to help regulate eating. Ants use chemical signals as feedback loops to communicate the availability of food. Cars like the Toyota Prius use feedback loops to alter driver behavior.
So, what does culture have to do with feedback loops?
Culture gives rise to infectious feedback loops. It does this using simple mechanisms like social acceptance, rejection, fear, greed etc. The spread of socially approved behavior is "infectious" because it gets mimicked and runs through a population just like a virus. Fashion, fads, and memes spread using similar mechanisms.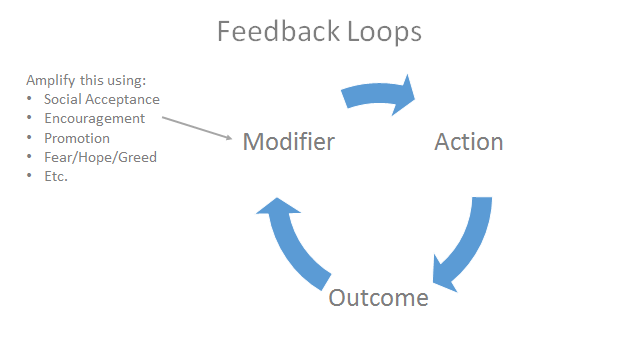 Feedback loops, especially those which use social acceptance as an amplifier, are effective because they give birth to intrinsic motivation – the most powerful force in human behavior change. Extrinsic motivators like money or incentives don't operate at this deep level and don't generate the same type of cultural shift.
2) Create unlikely connections
Pair up data skeptics with data lovers. Business folks with Math lovers and so on. The more inter-connected your organizations social network, the easier it is for an "infection", like a data driven culture, to spread. Another benefit of forming these connections is that social learning takes place. Mentor-protege relationships emerge. Silos break down. Empathy for the work done by others increases.
3) Provide sustained training
Humans are cognitive misers and love mental shortcuts. Intuitive, gut feel decision making will always be easier and in some cases better. However, with sustained training you reduce the cognitive burden needed for data driven decision making. This no different than going to the gym, building muscle and finding it easier to lift the same load. "Data muscles" take time to build, so don't scrimp on the training.
4) Trigger the habit
Triggers or prompts help behaviors become habits. Without triggers to nudge us along, it's easy for ideas to be "out of sight, out of mind". If you can embed triggers into the fabric of day to day activities you have a strong chance of sustaining behavior change. It pays to understand the workflows of your users and then become creative about embedding triggers in their path. Start with simple approaches like email reminders, newsletters, lunch and learn sessions, workshops etc. and then move on to more sophisticated approaches like gamification.
If you have other ways of "hacking" your culture, please share them! Reach me on Twitter @DataCzar.